It's been 12 months since I first wrote this SolarEdge inverter review. Since then we have installed 130 SolarEdge optimiser systems and I have had meetings with SolarEdge at their Headquarters in Israel. My opinions about SolarEdge optimisers have changed considerably, so I have updated this Solaredge review to reflect.
Part one and two are an edited version of my original review. In part one I explain what SolarEdge does and the technical advantages it has over a traditional string inverter like Fronius. In part two, I pull apart SolarEdge's newest model, the SolarEdge HD Wave.
Part three is where the rubber hits the road. I mention the legal threat I received from SolarEdge, and I discuss optimiser failure rates. Then I explain why SolarEdge monitoring has let us down.  I also explain an inherent design restriction that can result in reduced power production.
Part One: Why SolarEdge optimisers?
SolarEdge is a huge player in today's solar inverter market. Compared to their competitors, they are the new kids on the block. They only kicked off in 2006 with the first inverter sales in 2010. Today they are second only to SMA for the number of residential inverters they are moving, and the way I read it, they are making money hand over fist. So what are they doing right?
Optimisation
To step back a bit, let's look at one of the key components of any solar inverter: the Maximum Power Point Tracker (or MPPT). Standard string inverters have two MPPT's. The panels on a house are divided into two groups (or strings) and connected to the two MPPT's in the inverter. As the sun's intensity changes throughout the day, the two MPPT's will continually adjust the voltage and the current from the panels to achieve maximum power.
The problem with standard string inverters is that a string of panels works kind of like old school Christmas tree lights: if one panel is affected by shade or dirt, then all the panels in the string are affected. SolarEdge offers one solution to this problem. It takes the MPPT's out of the inverter and effectively puts one MPPT (or optimiser) behind every panel.  So if one panel is shaded, it does not drag down the performance of the next.
But that's just where it starts. Installing an optimiser behind every panel allows for a bucketload of extra features.
Panel Level Shutdown
I deliberately didn't call this section "enhanced safety" or "SafeDC" as SolarEdge brand it, because that infers other solar systems are not safe. If solar systems are installed by electricians who follow today's standards, your solar is arguably as safe as the rest of the electrical wiring in your home. The nature of electricity is that it is not 100 percent safe, but we can put measures in place to make it safer.
So Sunday BBQ lunch goes wrong, and suddenly your house is on fire. That's bad. You run to your switchboard like a good boy scout and turn the main switch off.  Although your inverter turns off, your solar panels will still be pumping 600 volts potential through the solar cable in your roofspace. The firefighters are not amused as the solar cable arcs, and your roof potentially becomes live. It's then that you realise you shoulda gone a SolarEdge inverter.
The SolarEdge optimiser solution brings another level of safety. A SolarEdge inverter rely on communication with the Solaredge optimiser in order for it to operate. If the main switch is turned off, the inverter will turn off, and the optimised panels will produce a safe 1 volt each.
SolarEdge Inverter Monitoring
Every system we install today has an in-depth level of monitoring. With Fronius monitoring, we can see the DC voltage, DC current and power in individual strings. We can monitor AC voltage, AC current, power and even power factor in five-minute intervals. We can even see import/export power assuming a Fronius Smart Meter was installed. All this is historically recorded to infinitum assuming your inverter is online.
How much data can we possibly need from a solar system? I mean, it's not like we're sending it to Mars! Why would we possibly want to monitor individual panels? Get your nerd on – I'm going to give you four reasons for SolarEdge inverter monitoring.
i) To identify shading for tree growth and soiling,
ii) to identify panel degradation,
iii) to identify bypass diode failure, and,
iv) education. Because there is always more to learn about solar.
In the earlier version of this post, I rabbited on about each of those points. However, while all these features are available on SolarEdge inverter monitoring, I now question their accessibility and their reliability. I discuss that in Part Three. But for now, let's look at the positive and check out the HD Wave Inverter.
Part II – The revolutionary new SolarEdge inverter
SolarEdge HD Wave specifications
In the early days, inverters used a heavy copper-wound transformer. Over the last ten years, inverters became "transformerless" which made them heaps lighter and more efficient. All inverter manufacturers today use SMA's H5 Bridge technology – all except … the new SolarEdge inverter.
SolarEdge claims to have lifted the bar. They have replaced electrolytic capacitors with film capacitors and heavy magnetics with digital processing. There are three claims that SolarEdge makes that I'll examine:
i) The HD Wave is more efficient.
ii) The HD Wave produces less heat and requires less cooling
iii) Film capacitors last longer than electrolytic capacitors.
i) Efficiency
Of course, I wasn't going to take SolarEdge's word that the HD Wave was more efficient, so early in 2017 I gave Gavin Merchant, the Country Manager of SolarEdge, a call to hit him up for an early HD Wave to test out. Gavin generously sent me his functional display HD Wave – one of only two in the country. I shuffled around the panels on my warehouse and set up this comparative test.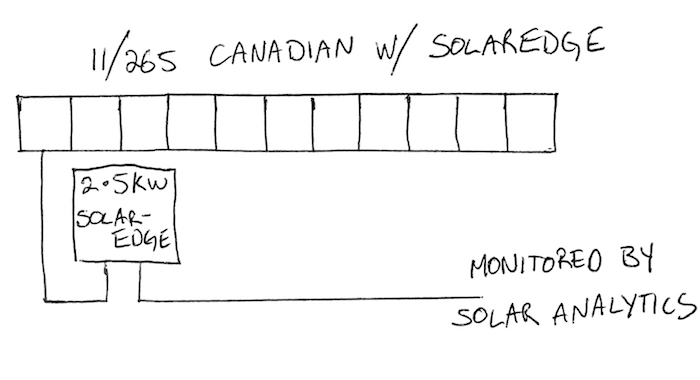 As an early control, I removed the external optimisers and ran both systems on two separate Fronius inverters. The panels were working identically.
Both the 3kW Fronius and the 2.5kW SolarEdge inverter use the same components as their respective 5kW models, so the comparison was fair.
Because the test was run during the winter months, we never saw clipping of the inverters. Monitoring was via Solar Analytics.
I refer to my previous blog where compared a 5kW Fronius vs a 5kW Solaredge inverter in unshaded conditions. My tests showed that "over a 7 day period, SolarEdge optimisers and Maxim / Fronius were performing almost identically."
The earth-shattering HD Wave test results
Over a 3 week period, the new SolarEdge inverter wave performed about 1.5 percent better than the earlier model SolarEdge and the Fronius inverter!
It's all good to spruk the increased efficiency of HD Wave inverter, but does that work out in the real world? Since performing these tests in 2017, we have installed a total of 130 SolarEdge inverter systems. The more I looked at the data, the more I realised that the Solaredge inverter has an inherent design flaw. I discuss this issue in Part III of this post.
ii) Less heat requires less cooling
I presumed that if the SolarEdge inverter produced less heat, it meant it would run cooler. It was EOFYS while I was writing this blog so I used the need to test this presumption as justification to buy a thermal imaging camera. Because the taxman was going halvesies on my new toy, I went all-out and bought a FLIR E8.
I repositioned my test wall so I had both my HD Wave and Fronius sitting at the same height.
This is what I measured.
Because the SolarEdge inverter requires less magnetics, it produces less heat, so it doesn't need to do as much to dissipate that heat. This allowed them to put it all in a smaller enclosure and leave out the fan.
As you can easily see Fronius produces more heat, however, an internal fan expels the heat on top.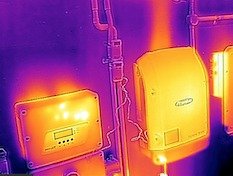 The winner
But which one actually runs cooler? Umm, yeah, well… While learning to use the thermal camera I learnt about a word called "emissivity". When measuring the temperature metallic cap of a capacitor, I need to set a different setting for when I am reading a resin coating of a coil, and so on. That neighbours impossible. Bugger. So, I pulled out my old $50 aircon thermometer and used high-tech sticky tape to attach the probe above the capacitors.  I heated the room with the aircon and a couple of jaffle makers. NASA would be proud.
The test results were as follow:
At 2300w and 30 degrees ambient, the SolarEdge inverter ran a few degrees cooler than Fronius. It appears the SolarEdgeinverter does run cooler internally, at least at half capacity. The "lower heat dissipation" claim of SolarEdge does seem to stack up.
Notice I didn't run this test on a 40-degree ambient temperature at 5000W of production. On these days, all three of the Fronius fans would be cranking and would be more efficient at cooling. However, presumably, it would also be generating comparatively more heat.
iii) Film Capacitors last longer than Electrolytic capacitors
Are film capacitors actually better than their electrolytic cousins? SolarEdge have claimed electrolytics only last an average of 10 years, and by using film capacitors they significantly increase the expected life of the inverter. I consulted leading inverter manufacturers.
An anonymous comment from a well-respected figure was pertinent:
If correctly specified and chosen, and an inverter's internal heat dissipation properly designed and tested, electrolytic capacitors have no problem to continue to operate for a product design life of 20-25 years. But the same is of course true for ANY component within an inverter.
I contacted SMA, ABB, Sungrow and Fronius. Each had similar statements. ABB gave an example of a similar power conversion product with electrolytic capacitors that have been in operation for over 25 years.
The ugly inbuilt DC Isolator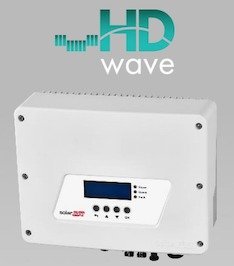 Design counts. The version of the HD wave that was on display at Intersolar in Germany looked small and schmicko. Australia, however, has this stupid regulation about inbuilt DC isolators that made SolarEdge feel obliged to favour function over form.
To match Fronius, their biggest rival, the Australian edition of the HD Wave added an enclosure below the inverter to house a DC isolator. The isolator works fine and I'm not doubting that it is 'fit for purpose'. It just feels flimsy. You get the vibe that the engineers snuck it past the design department to get it to market in a hurry. To be honest, I'm not convinced it was necessary. My requests for a more competitively priced inverter without an inbuilt isolator have fallen on deaf ears.
And see that screen in the image above? Don't get used to it. By the end of 2018, it'll be gone. SolarEdge like most manufacturers are getting rid of the screen because of reliability concerns forcing Grandpa Technophobe to keep his inverter online or work out how to direct connect his mobile phone if he wants to monitor basic inverter production.
Part III – The problems with SolarEdge
As I write this update, it's July 2018. SolarEdge are charging ahead with their ambition to be a one-stop-shop for solar. Their product line up will soon include:
Inverters
Optimisers
Home Automation using the wireless ZigBee controllers
An "Immersion Heater Controller" or a hot water diverter.
Solar panels with integrated optimisers (made by Jinergy in China).
A SolarEdge battery
Electric Vehicle Chargers
Popcorn makers (just kidding).
I could philosophise about the approach SolarEdge take to developing their business, but I'll resist and just state some facts:
SolarEdge manufactures nothing. They outsource their manufacturing to other companies in China (by Flextronics), Hungary and Romania, and place their own staff in these factories for Quality Control.
Every other major solar manufacturer has chosen to collaborate under the Sunspec Alliance and enable "plug & play" system inter-operability, promote technology innovation, and accelerate Solar industry growth. SolarEdge has chosen to pull out of the Sunspec Alliance and go it alone.
SolarEdge is at the eve of offering a whole new swag of technically complex products. However, in my opinion, after 8 years of sales, Solaredge have not proven to the market that their main product is even reasonably reliable.
It's this reliability that is my biggest concern, so last month I went to Israel on a "business trip" to investigate.
My tour of Solaredge Israel
I lived in the north of Israel for several months in 1999. Israel is a fascinatingly complicated country steeped in history, so when SolarEdge invited me, I initially jumped at the opportunity to get back and hang out in Jerusalem.
SolarEdge was well aware of my reservations. At one point I turned down the invitation saying that we had decided not to use SolarEdge optimisers because the issues were too significant. Solaredge convinced me to go, so I went as a sceptic willing and wanting to be convinced. There were two significant issues I wanted to address.
SolarEdge optimiser failure rate.
Performance issues due to design restrictions.
SolarEdge optimiser failures
Until recently, Solaredge Australia had always insisted that our high optimiser failure rate was an anomaly. However, concerns about failures are echoed by many in the industry. We have had 24 optimisers out of 130 jobs fail. So while that's only 0.84 % of optimisers, it's 18.5 % of jobs that had a failure. Popping like popcorn.
You might argue that a 0.84% optimiser failure rate is not that much higher than my Fronius failure rate. Under 1% is considered an acceptable failure rate for a string inverter with a 10-year warranty. However, SolarEdge readily admits that because of the number of components used per job, 0.84% is far from acceptable. They agree with me that working it out on a per job basis (18.5% of job failures in 2.5 years) is reasonable.
Keep in mind, the optimiser has a staggering 25-year warranty. While SolarEdge currently has an agreement with installers to pay for the labour component to replace faulty optimisers, their SolarEdge warranty explicitly states otherwise.
The tour of SolarEdge
During our tour of SolarEdge, we visited their R&D testing labs…..
_______________________________________
Before publishing this post publicly, I sent it to SolarEdge for feedback. I told them repeatedly that I am open for corrections or omissions and I was willing to delete sensitive information. I also did the same when I reviewed SMA, ABB and Fronius. This time instead of a "thanks for the courtesy, can you change …", I was threatened with legal action and was given no real feedback. 
I deleted this section of the blog because they suggested I was about to break a loosely worded non-disclosure agreement.
_______________________________________
Both leading up to my Israel trip and after it, I had multiple conversations with SolarEdge Australia. Their tune has now changed and they now admit they have high optimiser failure rates across the board. They made two claims that I want to discuss:
SolarEdge's optimiser problem was mainly "infant mortality". Optimisers were failing within the first few months of install. Infant mortality occurs because of faulty components (like capacitors) and at the manufacturing process level rather than an inherent design fault.
These issues were addressed in "Generation 4" of their optimiser, which went into production around February 2017.
Infant mortality?
SolarEdge had reviewed our optimiser failures and said they were mostly infant mortality issues, which SolarEdge defines as failures within two months. Anecdotally, this didnt seem right to me, so we checked as much data as we were able to and found that more than half of our faulty optimisers failed after 12 months. Many failed after 20 months. Contrary to what SolarEdge specifically told me, the problem we have with optimisers is not infant mortality.
The hope of Generation 4?
Let's look at the second claim. After seven years of manufacturing, has SolarEdge finally got the winning formula in their Gen 4 optimiser? Gen 4 optimisers can be identified by the serial number dated since February 2017, or since SJ0817. We began installing them in August 2017. We've had three "Gen 4" optimisers "dead on arrival" and one Gen 4 optimiser that failed within one month. 67 of our installs were done with these new generation optimisers. My statistics look like this:
A massive 20 Gen 3 optimisers from 63 jobs failed. (1402 optimisers, 1.4 per cent over 2.5 years).
Only 4 new optimisers from 67 jobs failed. (1452 optimisers, 0.27 per cent in 6 months)
It seems to indicate that we have higher reliability with Gen 4 optimisers. However, these optimisers were all installed within the last year. More than half of our gen 3 failures (so far) are between 12 and 24 months old, and they continue to pop like popcorn. Give me 12 months and I'll run the Gen 4 failure rate numbers again.
Why doesn't everyone complain about Solaredge optimiser failures?
SolarEdge is a polarising product. While the majority of solar companies I've spoken to complain of numerous optimiser failures; some claim no failures.
But why do some installers claim very few failures while SolarEdge themselves admit there has been an unreasonably high failure rate. Do some installers just have good luck? Is it the Queensland heat?
I have a theory.
Restricted SolarEdge inverter monitoring
The SolarEdge inverter monitoring platform has three levels of accessibility. While the full view gives individual panel monitoring and alerts, the most basic view does not allow the customer to view "alerts" or "layout". Most companies I talk to only give the customer the most basic access when they set up the SolarEdge inverter monitoring portal. This practice is encouraged by some of the SolarEdge staff because they think end customers will call up and complain when one panel is doing 10 watts less than the other. I find this logic painfully frustrating. Panel level monitoring is half the reason to buy a SolarEdge inverter.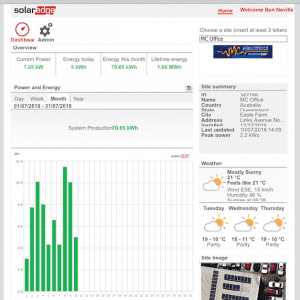 But let's play devils advocate and suggest that as long as the installation company closely monitors all of their SolarEdge systems, a restricted customer view would work, assuming:
The installation company remain in business for the next 25 years.
They give a rats about their past customers – for the next 25 years
Busyness does not get in the way of them making your failed optimiser high on their priority list – for the next 25 years.
SolarEdge remains on their product line up and they regularly log into their monitoring platform – for the next 25 years.
The alerts actually work for the next 25 years.
Alerts don't work
Let's assume an exceptional company like MC Electrical installs your SolarEdge inverter, and we adhere to all of the above points for the next 25 years. I call it my "Platinum-Gold-Ironclad 25-year Exceptional Customer Service Guarantee".
All we need to do is regularly check the alerts of the 2000+ system we would have installed, and repair the failures that are likely to happen.
The problem is the alerts don't necessarily work.
Over half of our 24 failures have been picked up because our customer looked at the individual panel monitoring, or we have happened to stumble across it. Clearly, not all customers bother to check their monitoring so, a month ago, we looked into the panel level monitoring view on all 130 of our systems and picked up a further three failures. While writing this paragraph, I asked Cristy in my office to go through all 130 systems again. She found another two – which brings us up to 24 optimiser failures. Incognito popcorn.
Now think of all the companies that report a low optimiser failure rate, but don't give their customers access to panel level monitoring. Whether by the intent of by default, the true failure rate of Solaredge optimisers has been covered up.
the true failure rate of SolarEdge optimisers has been covered up.
SolarEdge tells me they are working on updating the alerts in their portal. If this is applied retrospectively, and installers act on these alerts, one might predict a massive glut of optimiser warranty claims.
Production Loss and "Blocking"
Designing a SolarEdge system on a residential home is far more complicated than keeping the stringing rules and using the SolarEdge design tool. Consider this install we did earlier this year. This installation is in full sun, in two strings of 10 panels. However, four of the northern panels are producing significantly less than the other ten. What's going on?

Optimisers work on a string level by increasing or decreasing the voltage on individual panels so that the current in each panel in that string is the same. To complicate this even more, the SolarEdge inverter needs optimiser voltages to add up to ≈380 volts. A P500 optimiser boosts to a maximum of 60 volts. In this example, the voltage and current figures of the red string look like this:
The four northern panels boost the voltage to their maximum of 60 volts and 2.2 amps (≅132 watts).
The six western panels buck the voltage to about 24 volts and 2.2 amps (≅52 Watts).
The voltage of all the panels add up to ≅380 volts and 2.2amps.
However, if the four northern panels were not "blocked" at 60 volts, they could have produced the same power as the other group of 10 panels. We worked out the production due to blocking to between $6 and $9 per quarter.
It gets worse
SolarEdge optimisers is a product we were recommending for shaded situations. However, if we have a string with 6 or fewer panels in the sun, the system will suffer voltage blocking at best, or it will just shut down at worst. This is even when the electrician installs to SolarEdge guidelines.
Unless a shaded SolarEdge optimiser system is very thoughtfully designed by someone experienced in the intricacies of SolarEdge optimisers, it is highly likely that performance will be restricted due to voltage blocking.
Solution 1 – long strings
There is a simple way to solve this. In the example above, if all 20 panels were in one string, then the average panel would run at 19 volts. Lowering the average voltage of an optimiser would give it more room to boost and less chance to clip.  But lowering the voltage, in turn, increases the current, and we could end up with a problem by limiting the current at the optimiser's maximum current of 15 amps.
Long strings are a great idea if you don't care about your 25-year SolarEdge optimiser warranty, but if you want your warranty intact, SolarEdge inverter design guidelines allow a maximum of 5.7kW of panels per string. If we exceed 5.7kW, we may put undue stress on the optimiser, and your warranty may be void. But there is always a loophole. If designed correctly with maximum current and voltage in mind, and specifically approved by SolarEdge in writing, long strings will often solve the problem of voltage blocking.
Solution 2 – larger SolarEdge optimisers
A second option is to install an optimiser with a higher voltage. Multiple solar wholesalers have told me that the P505 optimiser is a rarely sold because they are about $15 more expensive each. However, it has a maximum voltage of 85 volts which means it needs fewer panels operating in full sun to reach the 380 volts required by the inverter.
A combination of longer strings and larger optimisers is an ideal way of increasing solar production.
Conclusion
The SolarEdge optimiser solution, in theory, allows panels to operate independently. If your installer gives you access to monitor the production of individual panels, it may help you identify a future panel warranty claim, but it's more likely that you will be claiming warranty on the optimiser.
The new HD Wave is a redesigned inverter that I found operates 1.5% more efficiently than its predecessor.  SolarEdge believes they have solved a significant problem by replacing electrolytic with film capacitors. However, the industry does not entirely agree this problem needed to be solved. Solaredge admits the optimiser failures have been bad. But the failures are worse than bad. The failures have been hidden by restricted access to monitoring and an alert system that is not fully working. It's too early to tell if SolarEdge has finally solved their reliability issue with Generation 4 of their optimiser.
While the HD Wave SolarEdge inverter can brag a smidgeon better performance, SolarEdge has an inherent design problem because of a fixed string voltage and low SolarEdge optimiser voltage. We can sometimes solve this with longer strings, more expensive optimisers, and an experienced SolarEdge designer.
Mark Cavanagh